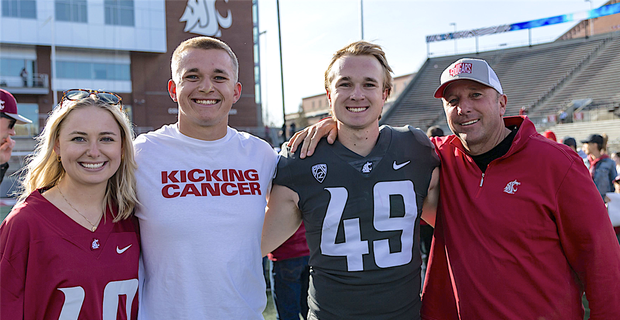 WSU Kicker Dean Janikowski's Charity Event Raises Over $30k for Cancer Foundation
At the exciting "Kicking Cancer" charity bowling tournament and auction held on Friday at Zeppoz, Washington State placekicker Dean Janikowski proudly announced to Cougfan.com that the event was set to raise nearly $30,000 for the Heather Janikowski Foundation. This charity, created in honor of Dean's late mother, Heather, who succumbed to breast cancer in January 2022, supports children in the greater Pullman-Spokane area who are battling cancer.
Dean Janikowski, a standout kicker in the Pac-12, has been using his talent to benefit the foundation through his "More than a Kick" fundraising campaign. Fans pledge donations for each field goal and PAT he scores, leading to a total of $17,000 raised last season. With plans to continue the campaign this year, Dean aims to raise $25,000 in contributions.
The Zeppoz event drew a crowd of prominent attendees, including WSU coach Jake Dickert, WSU legend Jack Thompson, and team stars Brennan Jackson and Ron Stone Jr. Janikowski's special teams comrades also joined in to show their support.
Hailing from Fallbrook, California, fourth-year junior Janikowski has had an impressive career thus far. Last season, the former walk-on successfully made 11 of 14 field goal attempts, including a 50-yarder, and converted 40 of 41 PATs, totaling 73 points. In the previous season, he received first-team All-Pac-12 honors after scoring 84 points with a 14 of 17 field goal accuracy and 39 of 41 PATs.